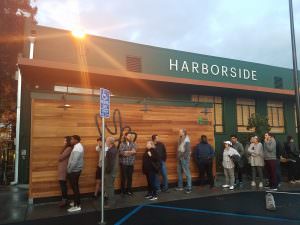 Harborside, which has well-established cannabis dispensaries in the Bay Area of California, is expected to start trading on the Canadian Securities Exchange (CSE) the first week of June.
While the company initially announced its plans to go public in August last year, the process really has been about 18 months in the making, CEO Andy Berman told Marijuana Business Daily.
The stock exchange listing had been expected late last year, but took longer than expected. Berman declined to provide details on the reasons for the delay.
The company expects to be valued at least at the original planned listing price of approximately 200 million Canadian dollars ($150 million), and it could be "more like $250 million (USD)," Berman said.
Harborside, co-founded by industry activist Steve DeAngelo in 2006, will inherit dispensary operations in Oregon and California from the company it is involved with in a reverse takeover (RTO) on the CSE, Toronto-based Lineage Grow Co.
Lineage also has a 43,000 square foot grow facility near Sacramento.
Those facilities will complement Harborside's two dispensaries in Oakland and San Jose plus its cultivation facilities in Salinas on 47 acres. But the Golden State is uppermost in the company's mind.
"The plan for the next 12 months is to stay very California-focused," Berman said.
The company has 34 licenses in California and will receive another seven following the RTO, Berman added.
Harborside reported revenue of roughly CA$50 million in 2017. The company "stayed flat" in 2018, Berman said.
The company is due to make an official update on its listing process next week.