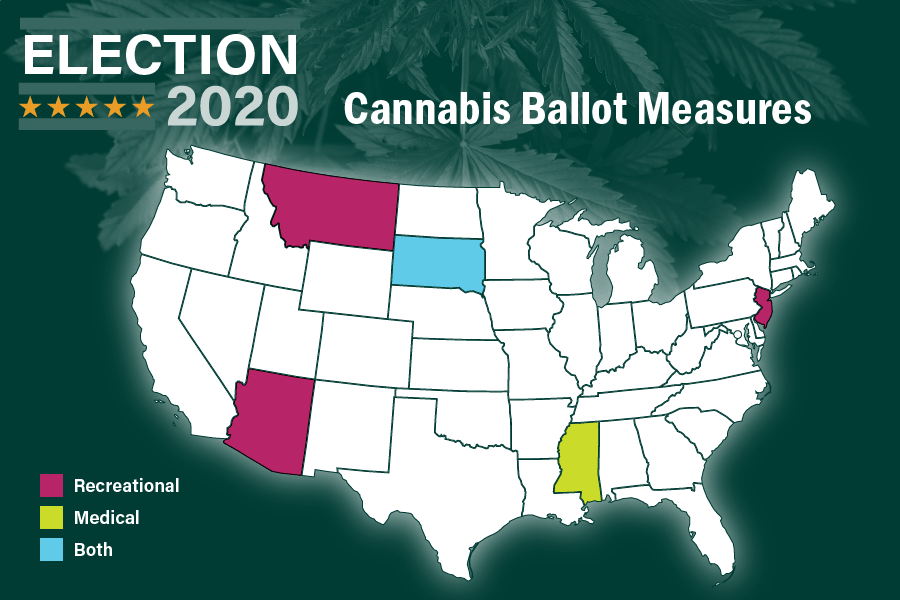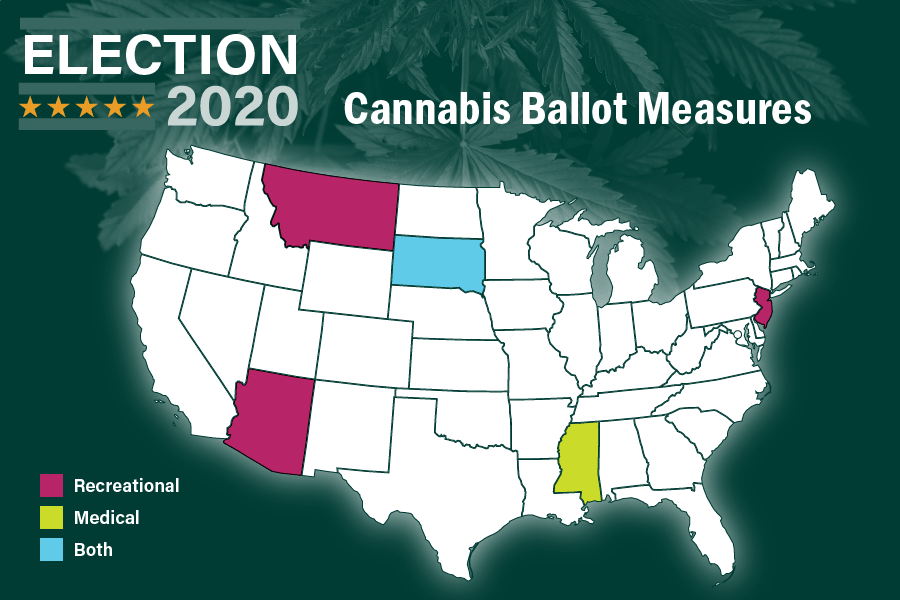 Get insights on state ballot initiatives and all things Election 2020 for cannabis at MJBizCon. On Wednesday, our Election Week panel will discuss the results.
The marijuana industry appeared headed for a clean sweep on Election Day, with voters approving new markets in Arizona, Mississippi, Montana, New Jersey and South Dakota that could generate more than $2.5 billion in medical and recreational cannabis sales a year by 2024.
New Jersey, Arizona, Montana and South Dakota represented the 12th, 13th 14th and 15th states in the country to legalize recreational marijuana markets, according to media projections.
Voters also approved new medical markets in Mississippi and South Dakota, capping a 100% win rate for state legalization ballot measures in the 2020 election.
On the federal scene, the presidential race remained undecided early Wednesday.
And Republicans were hanging on to control of the U.S. Senate, but some of the pivotal races also were too close to call.
Marijuana advocates believed that the Senate flipping to Democrats would accelerate federal marijuana reform, but as of 1:30 AM ET Wednesday, that looked like a long shot.
The 2020 election was significant for a number of reasons:
New Jersey wants to act quickly
State Sen. Nicholas Scutari told reporters he is aiming to introduce legislation on Thursday to implement a recreational marijuana market, with the possibility of a public hearing Monday. The measure builds on a previous Senate bill.
The state's 12 existing medical marijuana operators expect to automatically qualify for adult use, but there's pressure on lawmakers to ensure small New Jersey businesses and minorities have ample business opportunities as well.
Industry officials don't expect the adult-use market to launch until the third or fourth quarter of 2021 at the earliest.
One big challenge is that the state's 12 existing medical marijuana operators are struggling to meet patient demand.
"The big concern is, when adult use comes online, are those operators going to be able to serve that big wave of demand, not only in New Jersey but from neighboring states?" asked Robert DiPisa, co-chair of the cannabis law practice of New Jersey-based Cole Schotz.
Arizona legalizes rec
Arizona voters backed adult-use legalization by a nearly 2-to-1 margin on Election Day, giving the green light to what will be the 13th recreational marijuana market in the nation.
As of about midnight ET Wednesday, Proposition 207 was cruising to victory with 60% of the vote, a far cry from when rec legalization failed in 2016 with just 49% support.
The victory sets the stage for another enormous cannabis market that already has an entrenched medical program and 130 existing operators. Arizona is poised to launch adult use quickly in early 2021, potentially as soon as January.
Mississippi
Voters in Mississippi passed a medical marijuana initiative that is considered business-friendly because it has no license caps.
The fact that a state in the Deep South passed a wide-open initiative could have regional implications, experts have said.
"It is great to see that the tides of change are continuing to flow across the country, and now they have come to Mississippi," Steve Hawkins, executive director of the Marijuana Policy Project, said in a statement.
"As we saw in Utah in 2018, and as we see in Mississippi this year, medical marijuana can pass in any state in the country."
Montana legalizes adult use
Montana on Tuesday became the 14th state in the country to legalize adult use.
The conservative western state is already home to a medical marijuana market expected to see sales of $60 million-$75 million this year.
Existing MMJ operators will get first crack at entering the adult-use market for 12 months. The initiative also required that business licenses go to Montana residents.
South Dakota
South Dakota made history Tuesday when it became the first state to legalize both medical and adult-use marijuana on the same day.
Voters passed Measure 26, a medical marijuana initiative, with 69% in favor and 31% against.
Amendment A, the adult-use marijuana ballot item, appeared to be headed toward victory with 53.4% of the vote and 90% of precincts reporting.
Both ballot issues will become law July 1.
Senate flip a long shot
Control of the U.S. Senate remained up in the air for the coming Congress early Wednesday morning, with many of the most hotly contested races still to be called.
Races in Arizona, Maine and North Carolina remained undecided. And lower-profile contests in Michigan and Alaska – all of which could contribute to which party calls the shots in the upper chamber – were still too close to call.
It also means possible change in control from Republicans to Democrats faces longer odds than many pollsters had expected before Tuesday.
By extension, that leaves the fate of near-term federal marijuana reform up in the air, since Washington DC insiders have predicted much quicker progress if Democrats were to control both the Senate and the House of Representatives.
If Republicans hold the Senate, progress is still predicted, though not at the scale as expected if Democrats were to sweep into power.
However, some key Senate races were decided. In Kentucky, Senate Majority Leader Mitch McConnell, a Republican, cruised to victory, as did Iowa incumbent Joni Ernst, Texas incumbent John Cornyn and South Carolina incumbent Lindsey Graham, all Republicans.
But in Colorado, incumbent Republican Cory Gardner lost to Democrat John Hickenlooper, a former governor of the state.
Jeff Smith can be reached at [email protected]
Kate Lavin and John Schroyer contributed to this report.