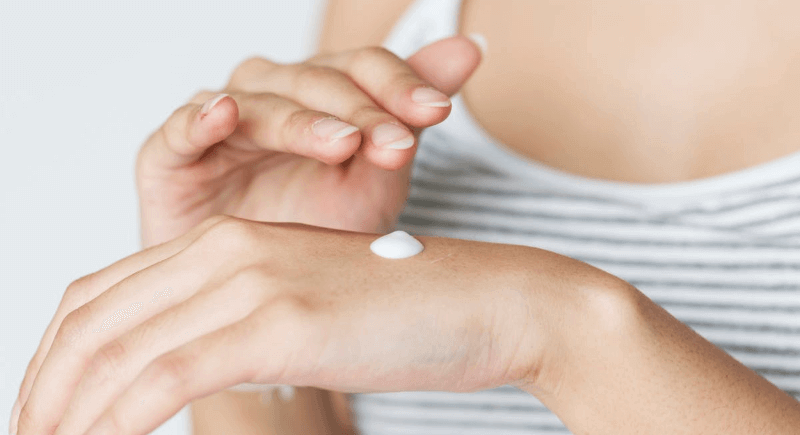 It's rich in protective phytonutrients, it's jam-packed with antioxidants and it delivers powerful antibacterial properties. Prominent lifestyle bloggers are raving about it, and A-list celebs can't get enough.
It's little wonder CBD skin care has emerged as the breakout beauty trend of 2019.
So why should you be excited about adding CBD-infused beauty products to your skin care routine?
We're glad you asked…
What is CBD Skin Care?
Hemp has been a present and popular ingredient in beauty products for quite some time, but the presence of hemp doesn't always mean the powerful cannabinoid CBD is in there too.
If you see hemp oil on the list of ingredients, which is oil derived from the stalk, stems and flowers of the hemp plant, you can be confident that the product is infused with CBD. If you see hemp seed oil, which is oil derived from the seeds of the hemp plant, it won't contain any CBD.
Now, that's not to say that there aren't any skin care benefits to using hemp seed oil. It's rich in Omega-3, 6 and 9, all of which are essential oils for healthy skin. But we're interested in the topical application of CBD and the benefits it delivers via the body's largest organ, the skin.
CBD interacts with your body's cannabinoid system, providing targeted relief from problematic skin conditions, such as dryness, sensitivity, acne and more. It's high in antioxidants, which helps keep your skin looking youthful, and it's rich in phytonutrients, cannabinoids and terpenes, which nourish, heal and protect your skin. Let's break those benefits down further.
The 5 main benefits of using CBD on your skin
1. CBD soothes and repairs
CBD boasts tremendous healing properties, bringing relief to inflamed, irritated skin. If you suffer from an inflammatory skin condition, such as psoriasis, eczema or acne, it's a great option to soothe itchy and painful skin. This is because CBD is an anti-inflammatory, which helps to reduce redness and calm sensitivities. It's also anti-bacterial, which helps to repair skin by keeping it free from harmful bacteria.
You should, however, be careful not to apply CBD skin care products to unknown rashes or open wounds. Make sure you have a doctor check you over before trying a new skin care regimen.
2. It moisturizes dry skin
Whether your skin is naturally dry, or you find that it dries out when it's cold outside or when you're in an air-conditioned room, it's vital that you replenish the moisture in your skin. CBD oil for skin is a great option, thanks to its long-lasting and rich, moisturizing effects. It helps to protect your skin, keep it hydrated and leave you with a healthy glow.
3. CBD helps brings balance to oily skin
Your skin naturally secretes an oily substance called sebum. In appropriate amounts, it helps to protect your skin. But if your body produces too much, it can lead to breakouts, acne or a shiny complexion. Applied topically, CBD can help to balance oily skin by increasing your body's cannabinoid levels, which, in turn, reduces the amount of sebum produced (1).
4. It's suitable for all skin types
Normal. Sensitive. Dry. Combination. CBD oil for skin doesn't discriminate! Containing a synergistic blend of phytonutrients, cannabinoids and terpenes, hemp oil gets to work intelligently balancing, restoring and protecting your skin. As an active skin care ingredient, CBD responds to your unique skin type and condition.
CBD keeps skin looking youthful
The best CBD products can also help rejuvenate your skin (2). Wrinkles appear smoothed and tired skin is plumped, leaving you looking fresh, youthful and vibrant. This is because of CBD's incredible antioxidant properties.
Antioxidants help to minimize the damage caused by free radicals, the natural byproducts of chemical processes. Free radicals can be found in the air we breathe, the water we drink and the food we eat — and are particularly prominent in alcohol, tobacco smoke, fried foods and air pollutants. CBD helps to slow visible signs of aging by protecting and restoring your skin.
Who's using (and loving) CBD beauty products?
When it comes to CBD beauty products, there's a veritable who's who of champions.
For starters, everyone's favorite Friend (no, not Chandler), Jennifer Aniston, swears by CBD oil (3).
Star of "The O.C" and "Vinyl," Olivia Wilde, is a huge fan of CBD lotion (4).
And "What Not to Wear" scene stealer, Stacy London, took to Instagram (5) to give props to CBD's skin care benefits.
They're joined by the likes of Kristen Bell (6), Mandy Moore (7), and Dakota Johnson (8) as vocal admirers of CBD. So, if you're ready to join the A-list of skin care routines, then, boy, do we have a treat in store for you!
Introducing Abinoid Botanicals: Our new CBD skin care range
We're proud and excited to announce our latest addition to Healthy Hemp Oil, Abinoid Botanicals. This unique range of skin care products gives you the chance to experience CBD skin care for yourself.
Unlike mainstream beauty products, which are packed with unpronounceable chemicals, Abinoid Botanicals features CBD-rich, full-spectrum hemp oil and a synergistic blend of natural botanicals that help nourish, protect and promote healthy skin. Everything has been carefully formulated by CBD specialists, working in tandem with a qualified herbalist.
And while most skin care ranges are determined to occupy every inch of your medicine cabinet with separate cleansers, moisturizers and toners for every conceivable skin type and condition, Abinoid Botanicals keeps it simple. They have a single cleanser, toner, serum and moisturizer that can be used on any skin type and for any condition by young and mature skin alike.
A four-step CBD skin care system
Although we stock each Abinoid Botanicals product individually, we're also offering a CBD skin care kit, containing all four products. This is a great value way to start your CBD skin care regimen.
Packed with phytonutrients and healing antioxidants, these four products combine to cleanse, tone, replenish and moisturize your skin, leaving you looking and feeling healthy, youthful and refreshed.
Get started in four simple steps:
Start your day with the Aloe and Yarrow Face Cleanser. It contains aloe vera and yarrow extract to cleanse your skin without dryness or irritation.
Next, detoxify and bring those pH levels back into balance with the Aloe and Red Clover Face Toner. This will help restore essential good bacteria to your skin while reducing the appearance of redness and fine lines.
Now it's time to experience those CBD oil benefits for skin with the Blue Chamomile and Hemp Face Serum. Infused with full-spectrum hemp oil and 23 phytonutrient-rich plant extracts, this game-changing serum lifts and brightens the skin, while providing deep hydration. Its anti-bacterial and anti-inflammatory properties help keep your skin clear and healthy, while the nutrient-rich ingredients reverse damage to skin cells and slow the signs of aging.
Finally, apply the Lemon Myrtle and Sandalwood Moisturizer to your face and body. This silky smooth, all-natural moisturizer delivers maximum hydration, plus the added benefits of full-spectrum CBD.
And that's it! In four easy steps, you'll soon see why CBD skin care is all the rage this year.
---
Have you sampled a CBD beauty product? Let us know in the comments below.